憤怒:血記憶-ARPG遊戲,戰鬥獎勵制度,呼叫/召喚同伴 限時免費推廌app
Games

Ire:Blood Memory
 

+

 

 iPhone app / iPad app 雙系統版本
Optimized for iPhone5
原App Store內容轉載: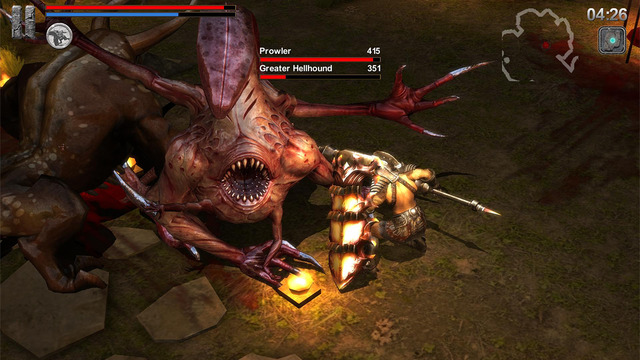 Tenbirds is an independent game development studio.
Ire, inspired by hardcore Japanese A/RPGs, is our first game.

*이 게임은 한국어를 지원합니다*
*早い時間内に日本語をサポートする予定です*

"As the sun sets upon prosperity, memory will fall
Nightmare will raze the realms with her ire
From its embers a champion will stand."

Ire background:
THE day of atonement is nigh. Memory has fallen and the world is broken. Hone your blades, name it, and kiss your beloved good-bye — you are marching into battle. Gather Memory, redeem the Corrupt and vanquish the agents of nightmare from the realm. Find your Boon and reclaim Cadmeia from Kerr the Breaker.

Gameplay notes:
- Welcome back to old school, DIY, hard A/RPG.
- Ire requires minimum of iPhone 5 and above.
- Ire requires a network to play.
-- Call/summon companion to arms.
-- Invasion, reward and ranking.
-- Combat reward system.
- Ire is MFi Game Controller compatible.
- We bring to you some core combat mechanics of PC/Console games.
- The three tenets to advancing in Ire are tactics, upgrades, and grit.
- Know your foes, kite enemies, use your environment.
- You will die a lot in this game.

---
Urgent Notice: Does not support iPad Mini. Currently, crashes on iPad4 depending on the state of your device--mixed reports on this one. Bug fixed for next update for closing Shop menu on iPad.
---
---
Future Updates:
Bug Fix
- Exit Shop issue on select devices.
- Inventory preview crash.
- Floating ravens.

Task Improvements
- Graphics performance optimisation.
- Memory management.
- AI performance and calibration.
- Balancing.