專業的文字處理編輯工具程式,編輯原件或文件副本•打開MS Office文檔,HTML,PDF,圖片等各種格式 限時免費推廌app
Productivity

Textkraft Pocket - Write text, research, correct & share
iPhone app 系統版本
Optimized for iPhone5
原App Store內容轉載: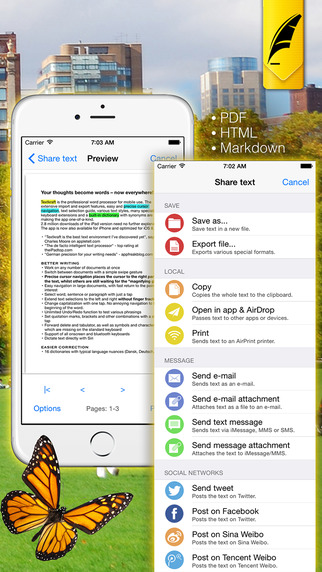 ••• Free today with 'App of the Evening'! •••

Textkraft is a professional word processor for mobile use. The extensive import and export features, easy and precise cursor navigation, selection guides, text styles, keyboard extensions and built-in dictionaries with synonyms are making the app one-of-a-kind.

• "Textkraft Pocket is truly a stellar accomplishment" - Top rating at TheiPhoneAppReview.com
• "Textkraft is the best text environment I've discovered yet"- technologytell.com
• "The de facto intelligent text processor" - Top rating at theiPadtop.com
• "German precision for your writing needs" - appfreakblog.com

••• Textkraft Pocket offers all the premium features and dictionaries for all languages without in-app purchases or other surcharges!

= BETTER WRITING =
• Optimized for iPhone 6 and iPhone 6 Plus: More pixels, more work space, more functions and sharper typeface and graphics
• Work with many documents at once
• Switch between documents with a swipe gesture
• Precise cursor navigation places the cursor, while others are still waiting for the "magnifying glass"
• Fast navigation in large documents, with jump back to the cursor
• Select word, sentence or paragraph with just a tap
• Extend text selections to the left and right without finger fractures
• Change capitalization with one tap – no navigation required
• Unlimited Undo/Redo
• Insert quotation marks and brackets with a single tap
• Forward delete, tabulator, symbols and special characters
• All onscreen and bluetooth keyboards supported
• Dictate with Siri and navigate with VoiceOver
• Color themes incl. night mode
• Text statistics + readability index (iPhone 6 and 6 Plus)

= EASIER CORRECTION =
• 16 dictionaries: Dansk, Deutsch, English (AUS, CAN, GB, IN, US), Español, Français, Italiano, Nederlands, Português (PT, BR), Русский, Svenska, Türkçe
• Extended dictionaries with thesaurus for English, Français, German, Español
• All dictionaries are working without internet
• Switch between languages without changing the keyboard
• Search in Wikipedia, translate words and look up several online dictionaries
• The Spell-Aid button jumps to unknown words
• Unknown words can be added
• Disturbing autocorrections can be disabled
• Places all diacritical marks automatically

= INDIVIDUAL STYLING =
• 20 font faces
• Supports "dynamic type" feature
• Text styles (bold, italics, underline, strikethrough, superscript and subscript) and 3 headline styles without explicit selection applicable
• Highlighter in various colors
• Enumeration function and interactive check boxes
• PDF creation and printing with WYSIWYG preview: adjust font size, pagination and printing options

= UNLIMITED ACCESS =
• Direct access to Dropbox, iCloud, iCloud Drive, Evernote, Box and local storage
• Fast access to recently edited and favorite documents
• Edit originals or copies of documents
• Open MS Office documents, HTML, PDF, images and various other formats as working model
• Delete/rename/create files and folders
• Exports as plain text, Markdown, PDF or HTML
• All Mac- Linux- and Windows text encodings
• Print documents with AirPrint compatible printers

= FASTER COMMUNICATION =
• Send documents as attachment or text via e-mail, iMessage, SMS or MMS
• Data sharing with other apps or devices (AirDrop)
• Post text, with or without image, directly to Twitter, Facebook, Sina Weibo and Tencent Weibo
• Fast text selection and shortening before posting
• Divide large texts automatically in multiple messages

= MORE SECURITY =
• You can activate a passcode lock to avoid unauthorized access
• Texts can be saved in local storages. Textkraft does not force you to use a cloud service.
• Supports Apple Data Protection
• ANTI-SPY GUARANTEE: infovole GmbH is committed to compliance with European data protection laws. Your documents are not evaluated, or made accessible to third parties or us.