世界節日曆 - 國家公共假日信息工具程式,50個國家地區的公共假日信息,全新界面 限時免費推廌app
Productivity

World Calendar - Country Public Holiday & Culture Events
iPhone app 系統版本
Optimized for iPhone5
原App Store內容轉載: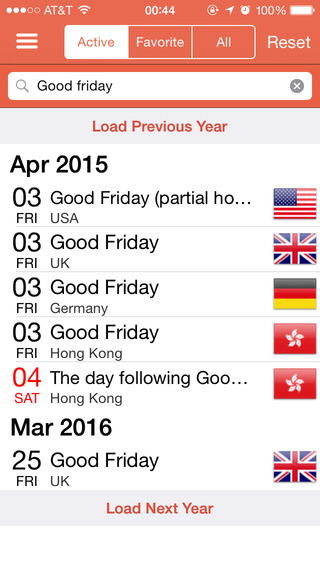 描述
50個國家地區的公共假日信息,全新界面, 4年品質,持之以恆
深受跨國業務經理,國際旅行者,投資銀行家和財務服務的專業人士的喜愛
- 清晰的用戶界面,同時查看多個國家的假期
- 離線搜索任何國家的假期
- 同步導入假期事件到手機日曆
- 點擊了解來自維基每個節日背景
- 計算功能,快速準確計算天數
- 中國農曆,伊斯蘭,希伯來日曆
當前世界日曆包括50個國家公眾假期:
2010至21年年:美國,英國
2011-2015年:非公眾假期場合
2011-2015年:阿根廷,澳大利亚,奥地利,比利时,巴西,保加利亚,加拿大,智利,中国,克罗地亚,捷克共和国,丹麦,芬兰,法国,德国,希腊,香港,爱尔兰,意大利,以色列,日本,韩国,卢森堡,马来西亚,墨西哥,挪威,荷兰,新西兰,秘鲁,葡萄牙,俄罗斯,新加坡,新加坡的所有假期,南非,西班牙,瑞典,瑞士,台湾,泰国,土耳其,越南
Limited Time Free to celebrate Ver 3.0 release !
50 Countries Public Holiday from 2013 to 2015
UK US holidays from 2013 to 2020

The favorite app for large corp business managers, international travelers, investment bankers and financial operation professionals.

- Clear User Interface to view holidays of multiple countries
- Search any country's holiday offline
- Synch import holidays event to your calendar
- One Click to learn background of each holiday from Wiki
- The Calculation function help people to calculate day count
- Luna, Islamic, Hebrew Calendar Add-on included

Current World Calendar includes public holidays of 40 countries as below :
2010-2021: USA, UK
2011-2015: Non Public Holiday Occasion
2011-2015: Argentina, Australia, Austria, Belgium, Brazil, Bulgaria, Canada, Chile, China, Croatia, Czech Republic, Denmark, Finland, France, Germany, Greece, Hong Kong, Ireland, Italy,Israel, Japan, Korea, Luxembourg, Malaysia, Mexico, Norway, Netherlands, New Zealand, Peru, Portugal, Russia, Singapore, Singapore All Holidays, South Africa, Spain, Sweden, Switzerland, Taiwan, Thailand, Turkey, Vietnam, Venezuela, etc

including Bible, Christian Holidays.