關鍵魔方休閒益智遊戲,3D視野,完整的六自由度(上/下,左/右,前/後),2手指拖動(向上,向下,向左,向右)旋轉的水平 限時免費推廌app
Games

CubeTraz
 

+

 

 iPhone app / iPad app 雙系統版本
Optimized for iPhone5
原App Store內容轉載: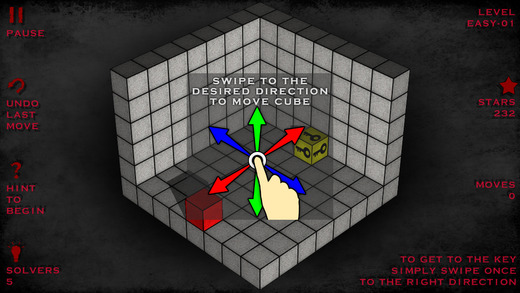 Escape from a prison built from cubes for cubes known as "CubeTraz"

► Goal
- find your way to the key cube
- with fewer movements as possible

► Control
- To move your cube swipe with your finger to the desired direction. You have full six degree of freedom(Up/Down, Left/Right, Forward/Backward)
- 2 finger drag (Up, Down, Left, Right) to rotate the level and get a better view (3D is tricky)

► Note
- Your cube will move to the selected direction until it is stopped by another cube. If it encounters the key cube you solved the level. Congratulations!