像素風格日本劍武士之戰動作遊戲,巧妙地只看到敵人的姿勢,甚至不需要看按鈕削去 限時免費推廌app
Games

Sword Battle Samurai
 

+

 

 iPhone app / iPad app 雙系統版本
Optimized for iPhone5
原App Store內容轉載: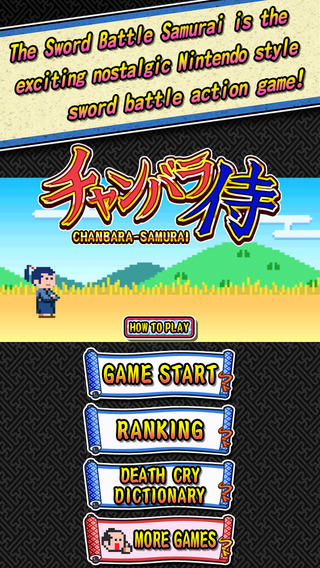 Vigorously crossing swords with approaching enemies!
The righteous samurai never loses against the bad samurais
The Sword Battle Samurai is the exciting nostalgic Nintendo style sword battle action game!
Let's aim to be the legendary assassin by slashing away the endless number of enemies!
Sword battle, sword battle away


How to play
Thou shalt repeatedly put out blows by pushing on the button according to the enemies postures and do away with the bad samurai!

Up for an enemy with the upper-level posture!
To the right for an enemy with the Seigan posture!
Down for an enemy with the side posture!
Once used to it, thou art capable of skillfully slashing away by just seeing the enemy's posture even without having to look at the buttons!

Thou must be careful since selecting the wrong button speeds up the bad samurai!

By saving up the secret fete gages, the ultimate secret fete will come into effect!

Let's slash away at the bad samurais with the ultimate secret fete!

In addition,
as a matter of course, the man slashing ranking competing for the numbers slashed
The game is loaded with a death cry dictionary function for collecting the death cries of enemies as an additional element!
We shall do away the numerous enemies by slashing for righteousness!